Left to right: Lay Reader Margaret Clarke, Head Teacher James Tibbles, Rev Estella Last and Julia Perfect (Collective Worship Leader)
Bridge & Patrixbourne C.E.P and The Bridge Benefice
The Benefice encourages links with the local Church of England Primary School which is situated in Bridge.
The pupils enjoy holding their termly services in St Peter's, as the school has over 400 pupils two services are held during a morning. Workshops are held in church by individual year groups throughout the year to enhance the learning of the children such as when the reception staff get 'married' and year one hold a Baptism. The church is also used to celebrate key events during the school year such as Remembrance, Christmas and Easter.
Easter 2019 saw the entire school, over two services, recreate the timeline of Holy Week from Jesus' arrival on the donkey on Palm Sunday to the Resurrection alongside readings and prayers written by the children themselves and some very jubilant singing!
The Year 2 children produce an amazing and upbeat version of the Nativity at St Peter's every year as part of their Christmas celebrations and the full student body takes part in a Christingle service held in the school hall.
Our Vicar, Estella Last and Reader, Margaret Clarke, visit regularly to take Collective Worship and Key Stage Assemblies in the School. A number of parishioners volunteer on a regular basis on school trips, as reading helpers and with specialist teaching. Estella is also an Ex-officio governor on the school's governing body.
The school hall is also used as a venue for larger church meetings and Messy Church which is held once a month on a Saturday afternoon. The Church team have also joined up with the school PTA to put together a fete for the Village community.
The Easter Story Prayer Stations
Children from all year groups at Bridge and Patrixbourne C.E.P visited St Peter's during Lent 2019 to enhance their leaning of the Easter Story. They took part in 5 different activities representing different parts of Jesus' journey from Palm Sunday to The Resurrection.
The children made Palm leaves and placed them on the 'road' then wrote down their worries on flowers and spent some time reflecting quietly in the Garden of Gethsemane.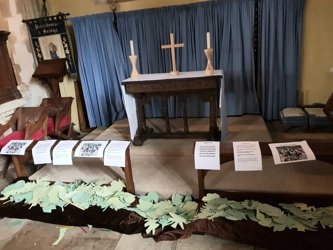 The children draped wool over The Cross and Crown of Thornes, made crosses and wrote prayers to hang on the tree next to Jesus' tomb
The children also remembered the Last Supper by washing their hands, sharing bread and juice and writing thank you in a large foot print .
Christmas 2018 with the children from Bridge and Patrixbourne C.E.P
The children made decorations and held a Christingle Service in the school hall.
Remembrance Displays by the Children of Bridge and Patrixbourne C.E.P
This year the children of Bridge and Patrixbourne C.o.E Primary created wonderful displays of poppies as part of their learning and celebration of the 100 year anniversary of the end of WWI.
safeguarding contacts: https://www.churchofengland.org/more/safeguarding/diocesan-safeguarding-contacts