St Peter's Church, Bridge
Churchwardens: Laurence Dunderdale and Evelyn Andrews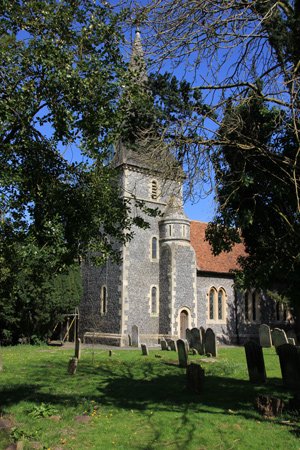 Bridge has always been part of the parish of Patrixbourne and there has been a chapel on this site in Bridge since 1189, it was enlarged through the 12th and 13th centuries to become a church. In the mid-19th century, at a time of large Victorian congregations, St Peter's was massively restored and enlarged principally through the generosity of Mrs Mary Gregory.
As seen today the church is the result of the extensive restoration work undertaken in 1859-60 by architect (Sir) Giles Gilbert Scott, when the external walls were completely refaced with dark knapped flint. The original west doorway is mid-to-late 12th century and has fine mouldings standing out in bold relief. The original 12th century tower deteriorated to such an extent that in 1859-60 it was completely rebuilt above its medieval base with a shingled spire and the addition of the south-east stair turret. The tower is hung with a ring of three bells thought to have been cast in the 14th century by William le Belyetre of Canterbury.
The traditional layout inside of the church is of three aisles and a chancel with a wooden barrel roof over the nave and plain wooden roofs over the side aisles. There is a small amount of Norman stonework visible but almost all of what is seen today is Victorian. At one time the eastern end of the north aisle was partitioned off for use as a schoolroom until 1850, when the purpose-built Bridge and Patrixbourne National School was opened in Patrixbourne Road. The school transferred to its newly built present premises off Conyngham Lane in 1971,There are numerous carvings and interesting tablets within the church. The present organ was installed in 1926 (first used on Sunday 2nd January 1927) and is thought to be Victorian dating from 1860 and typical of that period.
The Friends of St Peter's, Bridge
The Friends of St Peter's was formed in 2015. It is very busy raising funds to repair the external flints and internal redecoration and £90,000 has been raised to fund this major project.
The group have been active in raising money by organising Musical Concerts, a Harp Recital, a Concert by the Cathedral Chorister Choir, Plays and many other smaller events.
Monthly 'Coffee, Cake and Concert' are held in Church on a Saturday morning, most months.
New members to FOSP are always welcome, please contact Evelyn Andrews through the Parish Administrator.
Eco-church
in late 2019 St Peter's Bridge was awarded a silver level eco-church award.
---
Find the Church
All our parishes are located to the South East of Canterbury. Bridge is situated on the A2 which runs from Canterbury to Dover.
For your Sat Nav, please use the postcode CT4 5AR.
---
Accessibility
Access to this church is good.
---
safeguarding contacts: https://www.churchofengland.org/more/safeguarding/diocesan-safeguarding-contacts