Thanks to a fantastic team of volunteers January 2019 saw the start of Messy Church at Bridge and Patrixbourne Church of England Primary School. Each month the team of volunteers from the church, school and local community come together to provide various crafts and activities based on the theme for the Month. Themes so far have included, 'Where do I feel safe', 'The Easter Story' and 'The Centurion's Servant'.
Messy Church meets on a Saturday (usually the third Saturday of the Month) from 4pm-6pm. After an hour of crafting we all join together for the bible story the crafts have been themed around and the children act our their parts. Following on from the story we sing together and then finish the afternoon with a delicious hot meal cooked and served from the schools kitchen.
For more information please contact Estella on 01227 206272 or visit http://www.messychurch.org.uk
MESSY CHURCH RETURNS
18th January 2020
Bridge & Patrixbourne C.O.E Primary,
Conyngham Lane
Bridge
CT4 5JX
November's Messy Church
For November's Messy Church we thought about the Holy Spirit, how it connects us, how it is powerful and how it is there even when we cannot see it.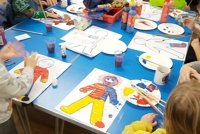 September's Messy Church
It was lovely to see so many families return to Messy Church after the Summer Holidays! Here are a few photos of what they got up too!
June's Messy Church
Vegetable locusts, finger painting and a paddling pool! Just some of the ways parents and children celebrated John the Baptist at June's Messy Church.
May's Messy Church
May saw the parents and children doing craft activities based around the bible story of the Centruion's Servant. Making Roman helmets, playing Roman tic-tac-toe and writing prayers for healing all followed by a wonderful dinner of Lasagna and salad.
Messy Easter at Bridge and Patrixbourne!
Easter 2019 saw Messy Church combine with Margaret's Easter workshop and so much fun was had! Biscuits were made, crosses were decorated and a wonderful Easter garden was planted in the school grounds.
Photos from January and February's Messy Church