Upcoming Services
Please refresh your page for the most up to date content
---
Sunday 24th March 2019
Nackington - 9.30am Sung Eucharist

Lower Hardres - No service, all welcome at the other services of the Benefice

Bridge - 8.00am BCP Holy Communion

Bridge - 11.00am Community Worship

Patrixbourne - 9.30am Matins

Bekesbourne - No service, all welcome at the other services of the Benefice
Tuesday 26th 9.30am Holy Communion at St Peter's Bridge
---
Sunday 31st March 2019 Mothering Sunday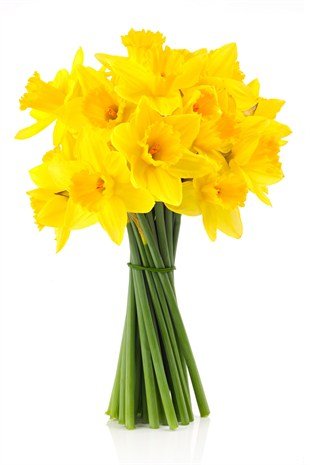 Lower Hardres - 9.30am Family service

Bridge - 11am Mothering Sunday Service (with communion)

Bekesbourne - 10am Songs of Praise
---
Sunday 7th April 2019
Nackington - 8.00am BCP Holy Communion

Lower Hardres - 11.00am Family Communion

Bridge - 6.00pm Evensong

Patrixbourne - 9.30am Sung Eucharist

Bekesbourne - No service, all welcome at the other services of the Benefice
Tuesday 9th 9.30am Holy Communion at St Peter's Bridge
---
Sunday 14th April 2019 Palm Sunday
10.30am Procession with Banks the Donkey from Bridge School to St Peter's Church, Bridge

11am Palm Sunday Benefice Service with Communion.
---
Thursday 18th April 2019 Maundy Thursday
---
Friday 19th April 2019 Good Friday
---
Sunday 21st April 2019 Easter Sunday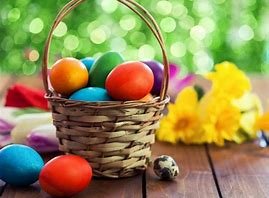 Nackington - 9.30am Sung Eucharist

Lower Hardres - 9.30am Family Service & Egg Hunt

Bridge - 11am Easter Choral Communion

Patrixbourne - 8am BCP Holy Communion

Bekesbourne - Easter Service with Communion and Easter Egg Hunt
---
---
More Services
Notices
---
There are yellow FOOD BANK bins in St Peter's Church, Bridge and St Mary's Church, Patrixbourne.
Donations always welcome, thank you.
---
Congratulations to our very own Churchwarden Laurence Dunderdale on receipt of his certificate for services to the community from the Lord Mayor.

---
MESSY CHURCH THIS SATURDAY
Messy Church in March - Saturday 23rd March 4-6pm at Bridge & Patrixbourne CE Primary School
Sausage & Vegetarian Casserole for Dinner
All welcome
---
'LENT LECTURES'

---
WHICH SERVICE IS FOR YOU?
Everybody is welcome at any of the services in the Benefice, but some services are catered more towards families and some offer more traditional worship.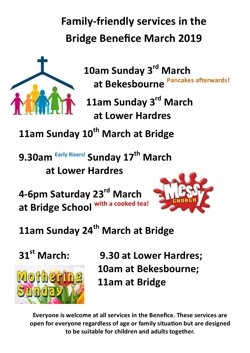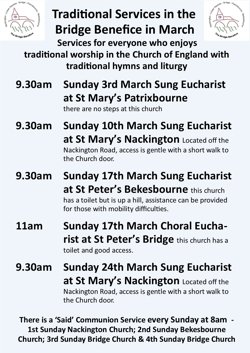 ---
The Bridge Benefice is on Facebook! Don't forget to keep up to date with the churches by following our page.
https://www.facebook.com/bridgecanterbury/