---
Parish Response to Covid-19
Please see below for the most recent information about events and services in our Parish
---
31st March 2020
I wonder how you are doing today? While if you'd said at Christmas we could all stay at home for 3 months we might have been tempted to cheer, the reality is perhaps more challenging than we could have imagined. It is especially hard for some that even our churches have had to close and raises questions about how we can be church when we can't gather together. Our churches though have stood the test of time, as buildings they will survive a few months of quiet and solitude under the watchful eye of Churchwardens and others. But what about us - the people of God, the beating heart of the churches?
Well we know in our hearts that we can pray anywhere but perhaps it is harder to pray and worship in solitude than it is in the company of others. Perhaps you are 'tech savvy' enough to have tuned in to some of my colleagues 'live streaming' their morning and evening prayers and have enjoyed praying with them in that way. Perhaps you have found my videos and short notes helpful or encouraging, perhaps not.
The point is, right now it doesn't really matter how you do it, or what you do, what matters is finding your own connection with God and seeking God wherever you can. It maybe outside in the sunshine and fresh air, it maybe in flickering candle light, it may be in the deep peace of your own heart or if you are with them, in the deep fellowship you share with your family.
We are praying for all the people who are being severely affected by Coronavirus right now across the world, and especially praying for those dear to us and known to us who are unwell. Oh Lord hear our prayer.....
https://m.youtube.com/watch?v=eZQlfbkvedw&feature=youtu.be
---
29th March 2020
It matters not whether you remembered to put your clocks forward! The buildings might be closed but the Church is open. Here is a service of prayer and reflection for you to join in with this morning - you can search for your favourite hymns to listen to on the web (or go with my suggestions) as you take part.
https://m.youtube.com/watch?feature=youtu.be&v=7IBvmUMhiKo
---
27th March 2020
Collective Worship with Estella https://www.youtube.com/watch?v=_YwABzBs1So
---
26th March 2020
" 'To everything a season' says the title of today's reflection in 'Live Lent' - hopefully you're all still keeping up with these daily encouragements whether through the app, the emails of the booklet. The world is a very different place now from when these reflections were written. We are encouraged today to notice that the seasons are changing, that perhaps we can turn our thermostat down a bit as we begin to enjoy the Spring sunshine.
The passage of scripture that begins 'To everything there is a season' is found in Ecclesiastes Chapter 3 (and of course inspired a song by The Byrds in the 1960s!) The passage reminds us of the importance of different seasons in our lives and the way in which these shape us and enable us to grow.
I wonder what the 'season' we are in now feels like? Strange and lonely perhaps since we are all now 'locked down', or perhaps a new opportunity to spend more time with those living in our household or discovering new ways of being in close community with those with whom we normally share our daily lives?
I was reminded today by a colleague, that when the pressure is on, we need to keep reminding ourselves to seek and experience God's presence - maybe it feels like the pressure is on just now because slowing the pace of our lives puts us in an uncomfortable place and the news never seems to get any better. And maybe seeking God's presence is hard if we are used to doing this in Church on a Sunday.
So I encourage you today to seek God's presence, whether in the sunshine in your garden, in the beauty of some music, in the stillness and silence and remember God's faithfulness throughout every generation. " - Rev Estella
https://m.youtube.com/watch?v=hoI_XD1jkok&feature=youtu.be
---
23rd March 2020
"This morning I am saying special prayers for all 'key' workers. Everyone who has to get out there and keep doing what they do for the benefit of others. I am praying especially for all those 'key' workers who are also parents and who instead of hunkering down at home with their children are having to send them to school so they can carry on with their vital work. And prayers too for schools and teachers (who are themselves 'key') having to keep the show on the road for those children who can't be looked after at home - Lord pour out your love and protection on all families affected in this way. Amen"
"Today I have visited all 5 of the churches in the Bridge Group Parish and have delivered a 'Rainbow of Hope' as well as stopping to pray in each church.
You might be wondering why, well yesterday the Bishops asked for all churches in London and neighbouring dioceses to close and lock - even for private prayer for the time being because the risk of infection spread is too great if churches are open for people to wander in and out of. I wonder if we might soon receive a similar instruction (and / or have total 'lockdown' imposed by Government) so I wanted to visit each of our churches while I know I still can.
There are two sides to everything aren't there and while our Rainbows of Hope that are springing up in windows (and on church notice boards) speak of the hope we have that in fullness of time all will be well and life will return to something approximating what we think of as normal; for today it is ok if we lament. If we recognise that challenging times bring out the best, and the worst in others. If we acknowledge the pain and sadness that we feel at not being able to do all the things we normally would.
This up and the down is part of the rhythm of our lives and our Live Lent daily reflection encourages us to notice the daily pattern of our life, the natural rhythm of day and night. In the same way that night and day are deeply embedded in our human nature so too are despair and hoper.
As our World battles against a virus that is hurting the whole of humanity, even as we hold up our Rainbows of Hope, we cry out to God Lord have mercy, and wait for the day when the light will come." - Rev Estella https://m.youtube.com/watch?v=ROzBLl0jU_U&feature=youtu.be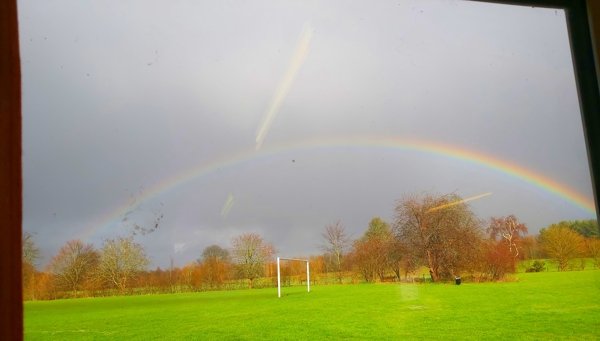 ---
22nd March 2020
Today, three services will be streamed live from Canterbury Cathedral:
09.30 Morning Prayer
12.00 Eucharist
15.15 Evensong
All are welcome to join the services here: https://www.canterbury-cathedral.org/
HAPPY MOTHERING SUNDAY
Wishing you all a very happy Mothering Sunday but recognising that this is a day of mixed emotions for many of us especially at the moment. Belatedly (technical difficulties!) here is a short Mothering Sunday Service recorded this morning at Bridge Church.
If you wish to collect posies and prayer cards for the special women in your life these are available at Bridge, Bekesbourne and Lower Hardres Churches.
However you keep today, keep safe, keep well and God bless.
Rev Estella
https://m.youtube.com/watch?v=fu6AsuR4hds
---
21st March 2020
Dear everyone from Messy Church at Bridge and Patrixbourne School
Just because we can't be together doesn't mean we can't still enjoy a bit of Messy Church action!
Here is my video for today - 3 types of Hope! Enjoy and do send me photos of your crafts when you've done them.
https://www.youtube.com/watch?v=ahSLTTcX98c
With every blessing
Rev'd Estella
---
21st March 2020
A "Lent Live" reflection from St Mary's Lower Hardres.
Rest for the Land "Six years you shall sow your field......but in the seventh year there shall be a sabbath of complete rest for the land, a sabbath for the Lord....."
May we learn together, as we are forced to withdraw from the world, the beauty and benefit of rest and peace. Amen
---
20th March 2020
Today has been a strange (crazy!) day for anyone connected in any way with Education. The instruction to stop sending our children to school goes against every instinct we have, as parents, as a society. Education = good therefore slacking off = bad. What bothers me today is the way in which some folk are seeking to bend the rules - perhaps not really thinking through the full implication of what they are doing. But the fact remains that the instructions are there for our own protection and the sooner we get on with it the sooner (we hope!) this will all be over.
It is absolutely right that the children of keyworkers should still be able to attend school. The fact remains that most of the 'keyworkers' would rather be at home with their children if they could be - but these are the frontline people, the people we need to keep our society running in a smooth and orderly way. This is not a privilege or a loophole to be exploited it is a backstop - a way of supporting those key roles in our society which are so vital.
It is though devastating and unsettling for those in their GCSE and A level years who cannot 'leave school' in the way they would have liked to and sad for them that they won't be able to put their hard work into practice in their school exams but they are all together in this and our society will cope with a cohort who were denied the opportunity to sit these examinations.
Part of the challenge for us all just now is that we are so used to having complete freedom to do pretty much whatever we like whenever we like that we aren't good at 'taking direction' even though we know its for our own good. And we become fixated on the things we are told we can't do rather than thinking about the things we can. It's similar with faith we often become fixated on the 'Thou shalt nots...' rather than focusing on the freedom we have in Christ - freedom to be the people God created us to be, to love one another as he loves each of us and to share in the abundance of his creation.
If I could, I would have led Collective Worship in Bridge and Patrixbourne School today and we would have talked about freedom and the opportunities presented to all of us as we 'hunker down' and wait this out. So here is a short video of the Worship I would have led in school had we been able to.
I pray that in this time we will find new ways to shine as lights in the world, from the inside out. Amen https://www.youtube.com/watch?v=jqnVBuaWs5o&t=323s
---
19th March 2020
If you are following the Live Lent daily programme using either the booklet or the app you will be aware that this week we are encouraged to think about our care for creation and specifically the Land and the Plants. The prayer for the week is a verse from the well known hymn 'How Great thou art'.
Today as I prayed morning prayer in Bridge Church this morning on the day when we commemorate Joseph of Nazareth, I was reminded that two years ago almost to the day, on pilgrimage to the Holy Land, we visited the Church of St Anne, said to stand over the house of Joachim and Anna, Mary's parents. On that visit, our Guide stood on the Chancel step and sung for us, in Arabic, the hymn 'How Great thou art.
From the service of Morning Prayer this morning I prayed:
Compassionate God, as you know each star you have created, so you know the secrets of every heart, in your loving mercy bring to your table all who are fearful and broken, all who are wounded and in need, that our hungers may be satisfied in the city of your peace; through Christ who is our peace. Amen
While we cannot gather together to worship, that does not mean we cannot still pray, that does not mean we cannot still break bread and give thanks with those closest to us, it also does not mean that we cannot sing.
And so in church this morning I sang:https://youtu.be/rqTDvNGmRuw

There is the whole hymn on the new Bridge Parish YouTube Channel which can be accessed here:
https://www.youtube.com/channel/UCkTHbcWKzsIHJAuYcuMoOdQ
May the Peace of God which passes all understanding keep your hearts and minds in the knowledge and love of God and of his Son our Saviour Jesus Christ. Amen
---
17th March 2020
In light of the Government guidance around non-essential contact, the Archbishops of Canterbury and York have issued advice that public worship is suspended until further notice. Further information will be available shortly on how we will move forward as a Parish during this time.
16th March 2020
Dear Friends
In the interest of 'flattening the curve' and protecting the most vulnerable among our community we have had to make some hard decisions.
The following have all been suspended for the time being:
- Coffee cake and concert
- Lent lunches
- Messy Church
- Lent lectures
- Tea and Talk (Lower Hardres)
At present Sunday services will go ahead if we can ensure they can be run safely. Please watch this space for any changes or cancellations. We hope too to be able to think through some creative, perhaps open air, possibilities for Palm Sunday and Easter Sunday as these are important festivals in the life of both Church and Community. Again watch this space!
Wherever we are we can still pray and read the Bible and I am currently investigating ways to offer video prayer and bible study sessions to keep us growing together in the time when we are unable to gather. I will continue to hold all five of our villages and our Government, NHS staff and front line services in my prayers daily.
As a whole church we will join in with any community efforts to support one another and I encourage you again to be good neighbours, to consider others as well as yourselves and to take seriously any advice given by the Government and the NHS / Public Health England.
If you or anyone you know finds themselves in need (physically, spiritually or mentally) please do not hesitate to get in contact (01227 206272).
"Now may the Lord of peace himself give you peace at all times and in every way. The Lord be with all of you." (2 Thessalonians 3:16)
Yours in Christ
Rev'd Estella
To find further information and guidance from the NHS please click here or from the U.K Governement please click here
---
Safeguarding
As a Parish we take Safeguarding our community very seriously. Safeguarding issues can be raised by speaking to the following people:
Safeguarding Co-ordinator: Rev. Estella Last 01227 206272 email: estellalast@gmail.com
Safeguarding Officer: Rosemary Whatley via the office on 01227 206272 email: bridgeoffice23@gmail.com
Churchwardens: Evelyn Andrews, Laurence Dunderdale, Carol Day, Nicola Fry, Andrea Nicholson, Pauline Pritchard, Scilla Wright.
The Parish Safeguarding Policy can be found by clicking the link at the bottom of the page.
For more information on the Church of England Safeguarding Contacts please see the link below:
https://www.churchofengland.org/more/safeguarding/diocesan-safeguarding-contacts