---
There are yellow FOOD BANK bins in St Peter's Church, Bridge and St Mary's Church, Patrixbourne.
Donations always welcome, thank you.
The Food Bank are currently short on donations of toiletries and cleaning products
visit Canterbury Food Bank
to find out more!
---
End of Term Services at St Peter's, Bridge
Tuesday 16th July 2019 saw the children of Bridge & Patrixbourne School visit St Peter's Bridge for the final time this academic year. Two services were held to accomodate the entire school with a class from each year group in each service. The services were complied by Mrs Perfect but the children had picked their favourite hymns and had written prayers from each year group. The children also shared reflections from the year, sharing their happiest memory, saddest memory, greatest learning moment and funniest memories ( which raised a few chuckles from the congregation). Parents and teachers joined in with some beautifully chosen hymns, accompanied by the multi-talented Mr Luck on the organ. Estella and Margaret where there to share prayers and blessings with the children and staff and the service ended, as is tradition, with the year 6 students leaving to a round of applause as they departed their final school service after 7 years at Bridge & Patrixbourne School. It was a very moving morning for all those involved.
Click here to see some of the beautiful work that the children have produced at St Peter's over the last academic year.
---
Record Number of Pilgrims at St Mary's Patrixbourne.
A record 350 pilgrims passed through St Mary's Patrixbourne on the walk from Wye to Dover via Canterbury on Saturday 22nd June as part of the Pilgrims Way Challenge. Participants could walk 25, 35 or 55km and the walk is expected to raise over £90,000 for Pilgrims Hospices. Congratulations to all of those involved.
To view some of the pictures from the day please visit the link below
https://www.pilgrimshospices.org/event/pilgrims-way-challenge-2/
Tired pilgrims rest their legs at St Mary's Patrixbourne.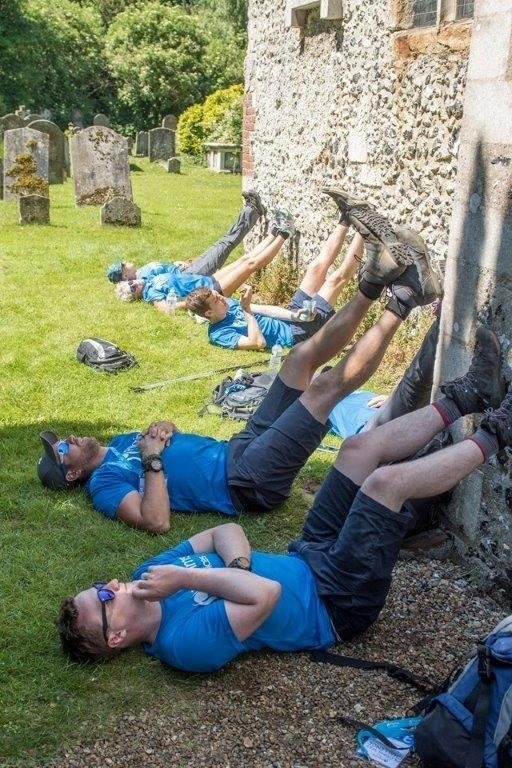 ---
Safeguarding
As a Benefice we take Safeguarding our community very seriously. Safeguarding issues can be raised by speaking to the following people:
Safeguarding Co-ordinator: Rev. Estella Last 01227 206272 email: estellalast@gmail.com
Safeguarding Officer: Rosemary Whatley via the office on 01227 206272 email: bridgeoffice23@gmail.com
Churchwardens: Evelyn Andrews, Laurence Dunderdale, Carol Day, Nicola Fry, Andrea Nicholson, Pauline Pritchard, Scilla Wright.
The Benefice Safeguarding Policy can be found by clicking the link at the bottom of the page.
For more information on the Church of England Safeguarding Contacts please see the link below:
https://www.churchofengland.org/more/safeguarding/diocesan-safeguarding-contacts