---
There are yellow FOOD BANK bins in St Peter's Church, Bridge and St Mary's Church, Patrixbourne.
Donations always welcome, thank you.
---
Good bye to Martin Miles
On Easter Sunday we said thank you to our organist Martin Miles who has played for us at Bridge Church for nearly 40 years and led the church choir. Martin is retiring from his role as honorary organist but has promised to come an play for us on the odd occasion at some point in the future. We have really valued Martin's work and contribution to the music at Bridge and will miss him very much.
---
Palm Sunday Procession with 'Banks' the Donkey.
At 10.30am on Sunday 14th April we gathered at Bridge and Patrixbourne C.E.P to begin our Palm Sunday Procession to St Peter's in Bridge. Worshippers from all over the Benefice sang 'Make Way, Make Way for Christ the King' as they made their way along Bridge High Street accompanied by the gorgeous 'Banks'. During the service that followed local children had a front row seat to the story of Holy Week complete with an array of visual aids.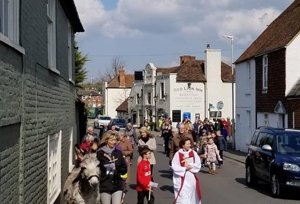 ---
Easter Displays by the children of Bridge and Patrixbourne C.E.P
This week children from Bridge school have created some beautiful displays in St Peter's, Bridge to represent the different parts of the Easter story. Displays representing Palm Sunday, The Garden of Gethsemane, The Last Supper, The Crucifixion and The Resurrection will be on show over the coming weekend to coincide with the Passiontide service.
To see the rest of the wonderful displays click here:http://www.bridgechurchgroup.co.uk/bridge-benefice-school.php
---
Safeguarding
As a Benfice we take Safeguarding our community very seriuosly. Safeguarding issues can be raised by speaking to the following people:
Safeguarding Coordinator: Rev. Estella Last 01227 206272 email: estellalast@gmail.com
Safeguarding Officer: Rosemary Whatley via the office on 01227 206272 email: bridgeoffice23@gmail.com
Churchwardens: Evelyn Andrews, Laurence Dunderdale, Carol Day, Nicola Fry, Andrea Nicholson, Pauline Pritchard, Scilla Wright.
The Benfice Safeguarding Policy can be found by clicking the link at the bottom of the page.
For more information on the Church of England Safeguarding Contacts please see the link below:
https://www.churchofengland.org/more/safeguarding/diocesan-safeguarding-contacts